Scott Leach
Über Scott Leach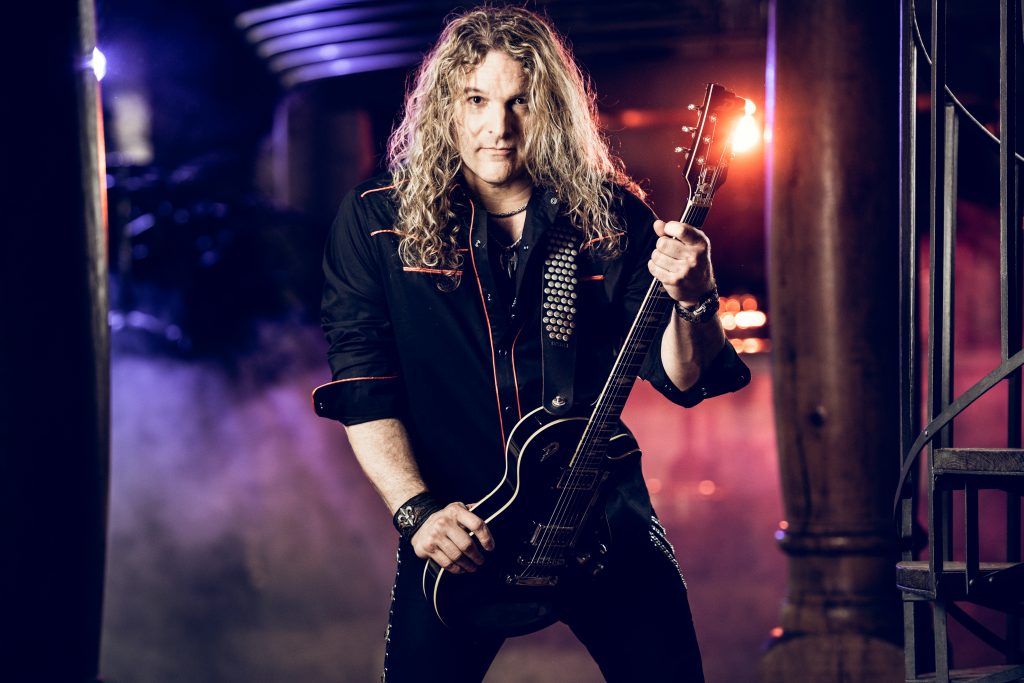 Instrument:
Lead guitar, backing vocals
Geburtstag:
27.01.1397;-)
Hobbies:
Filme, Essen gehen, Kurzurlaub
Laster:
Sind so unhandlich zum einparken
Musikalischer Hintergrund:
Mit 15 habe ich angefangen Gitarre zu spielen, inspiriert von Yngwie
J. Malmsteen und dem Song "Black Star". Nach den ersten paar Lokal-Band Erfahrungen
habe ich am AIM (American Insitute of Music) in Wien studiert.
Anschliessend habe ich angefangen als Lehrer für Gitarre und Musiktheorie zu arbeiten.
Ein paar Bands und Jahre später gründete ich die Coverband "Cherry Pie".
Die gleichen Musiker  veröffentlichten, drei Jahre und 150 Shows später, ihre
erfolgreiches Debut-Album with originalem Songmaterial unter dem Namen Crystal Ball.
Equipment:
Duesenberg, Gibson, Godin and Takamine guitars, Kemper Amps, 4×12″ Engl cabinets,  P·EAR·S custom in-ear monitors, Ground Control von Digital Music Corperation, Line6 wireless, Furmann,
Dunlop Picks, D'Addario NY XL 010-046, Richter Straps, Souls of Rock clothing,
Dean Markley stringwinder powerd by Bosch, Dr. Best Zahnbürste zur Gitarrenpflege:-)
Musikalische Idole:
Peter und der Wolf
Idole:
Die Bieber Brüder
Lebensphilosophie:
Ich glaube an ein Leben VOR dem Tod
Ort, den du gerne besuchen möchtest:
Neuseeland, Kanada, Die Oster-Inseln
Worüber kannst du lachen:
2 broke girls, Malcom mittendrin
Erste Platte:
Krokus: Headhunter
Top 5 Alben aller Zeiten:
Def Leppard: Pyromania
Pretty Maids: Future World
Dokken: Under Lock and Key
Y. Malmsteen: Trilogy
Queensryche: Operation Mindcrime
Zeit totschlagen während der Tour:
Schlafen, essen, lesen, movies
Vorbereitung auf ein Konzert:
Red Bull und Hände waschen weil die Erdnüsse so fettig waren 😉
Schlimmster Albtraum auf der Bühne:
Wenn die Gitarrenanlage/Monitoring nicht funktioniert
Schlimmster Albtraum allgemein:
Zahnschmerzen auf  Tour
Lieblingslied von Crystal Ball:
Hold your flag, Stranded, Director's cut, Crystallizer
Lieblingsband/-musiker:
Whitesnake, Dokken, Y. Malmsteen, John Sykes, George Lynch, John Norum, Freddy Mercury
Lieblingsbuch:
Biographien
Lieblingsgetränk:
Coca Cola Zero (nicht Pepsi), Red Bull
Lieblingsessen:
Sushi, Thai, Mexikanisch, Italienisch
Lieblingstier:
Katze, Otter
Lieblingsfilm:
Movie 43, We're the Millers
Lieblingsfernsehsendung:
Homeland, Breaking bad, 2 broke girls, Californication, Dark
Dümmste Frage, die dir je gestellt wurde: 
Wieso spielt ihr nicht mal mit AC/DC?