Band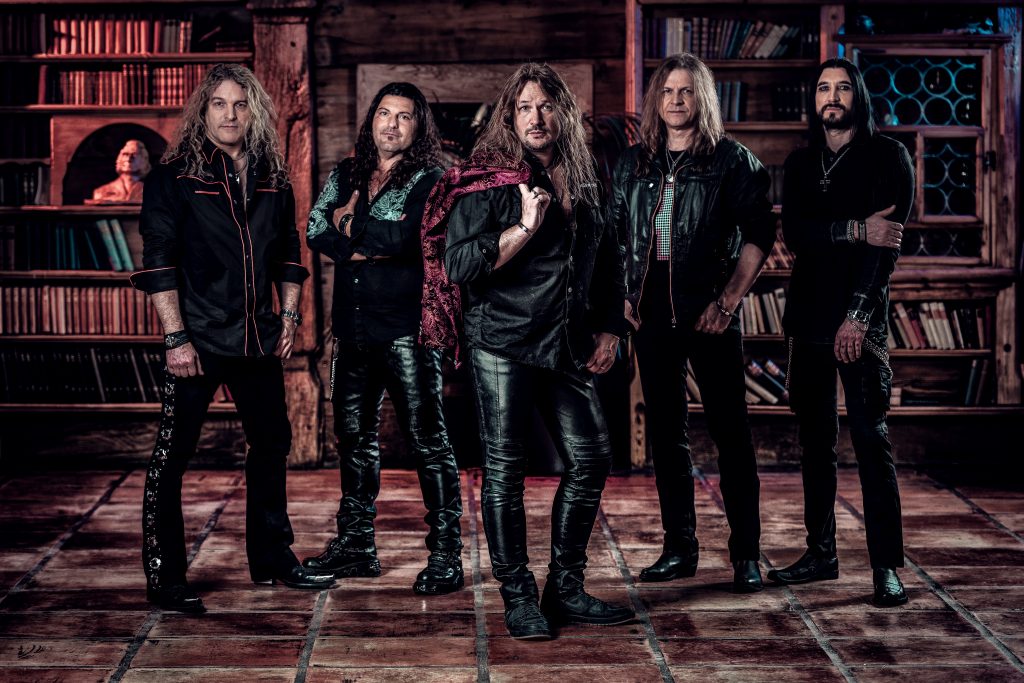 The Swiss melodic metal band CRYSTAL BALL released their new album "Crystallizer" at Massacre Records on 27 april 2018! Order your album now! Make sure to get your own brand new limited Digipack-CD with 2 exclusive bonus tracks.
With the critical acclaims for the last album «Déjà-VooDoo» (Massacre Records) still going on, the bustling Swiss melodic rocker stroke again. Already with the opening titel track "Crystallizer" they show impressive why this band belongs to the upper class of melodic metal!
The new CRYSTAL BALL opus has again been produced, mixed and mastered by Stefan Kaufmann (ex-Accept, ex-U.D.O). Kaufmann is meanwhile seen as the band's familiar sixth (studio-)member of this powerful live band. Their attitude towards a current difficult music market – with consequently ignoring short-lived trends – makes these energetic rockers even more likeable.
CRYSTAL BALL (say) about the new album: "Crystallizer" radiates a full load of melodic Hardrock / Metal! Thrashing deep beats combined with exciting melodic hook lines crystallize into cathy riffs, melodies and lyrics. And CRYSTAL BALL put their typical stamp on every one of these songs!
SEE YOU ON TOUR, CRYSTALHEADS!
The band started in 1995 as a cover band named «Cherry Pie» and they played countless concerts. These years of stage experiences became the foundation of CRYSTAL BALL, under whose banner the band became one of Europe´s major forces in the hard rock genre. With «In The Beginning» CRYSTAL BALL started their crusade in 1999. The first album was very successful, but topped with ease from the follow-up «Hard Impact», hailed as "Album Of The Months" in several magazines. Followed by a successful tour with PRETTY MAIDS. Nobody was able to hide from CRYSTAL BALL anymore. The result: a new record contract with Nuclear Blast.
With «Virtual Empire» (2002) CRYSTAL BALL toured massively Europe, together first with DOKKEN and then with U.D.O., DORO and KROKUS. In 2003 the fourth album «HELLvetia, produced by former U.D.O./ ACCEPT member Stefan Kaufmann, became a more edgy effort and increased the success of CRYSTAL BALL enormously. Successful tours with AXXIS, PINK CREAM 69 and KROKUS saw CRYSTAL BALL increase their fan base following again. «Timewalker», once more produced by Kaufmann, delivered great catchy songs, full of freshness and power The band´s very first headliner tour with then-labelmates THUNDERSTONE followed the release in 2005. In 2007 CRYSTAL BALL inked a new record deal with AFM Records. «Secrets» was their sixth album, a great piece of Hard Rock, produced by Michael Bormann.
2013 CRYSTAL BALL came back after a longer break, with the album «Dawnbreaker». Stronger than ever! The original members Scott Leach and Marcel Sardella reformed CRYSTAL BALL with fresh blood and a great new frontman, Steven Mageney from Wuppertal, Germany. The boys signed a new record deal with Massacre Records. The band played 40 shows in six countries. Their successful tours with Krokus and The Poodles made it clear for all the show attendants: The Balls are back … for good!
2015 CRYSTAL BALL strikes again with "LifeRider". The album received very positive reviews all over the world and was titled as the best CRYSTAL BALL album so far from fans and journalists. With "LifeRider" CRYSTAL BALL manages the balancing act between classical hard rock and modern metal. The guest appearance of BATTLE BEAST singer Noora Louhimo (duet "Eye to Eye") tops off the excellent production by Stefan Kaufmann. Tony "T.C." Castell (ex-KROKUS) joins the band. Successful shows with the SCORPIONS and THUNDER followed. Also a collaboration with musicians of the Sinphony Orchestra Wuppertal who joined Crystal Ball live on stage.
"Déjà-Voodoo" was released on the 22.09.2016. A tour through Switzerland and Germany together with SHAKRA left rock fans with a lasting impression. In 2017 CRYSTAL BALL rocked their French fans on a mini tour together with FREEDOM CALL. In addition to their own headlining shows CRYSTAL BALL also shared the stages not only with PRIMAL FEAR, PRETTY MAIDS but also with the guitar hero AXEL RUDI PELL. In the summer of 2017 CRYSTAL BALL has played at various festivals, peaking at the Rock the Ring festival (Hinwil, Switzerland) together with DEEP PURPLE, GOTTHARD and KROKUS.