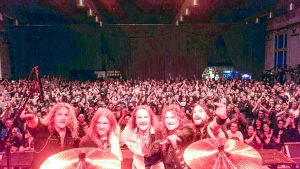 Looking back at a great tour with AXEL RUDI PELL! Weplayed 11 packed shows and 6 were even sold out!
We met many great people and entered the Swiss Charts at #18 and the German Charts at #61! Many thanks to all attendants and all the old and new CrystalHeads. A huge thank you to Axel Rudi Pell and the whole crew!
After the tour is before the tour! On the 24th of may the show goes on, CD Release show in the Kulturfabrik Kofmehl, on the 25th of may at Temus Club Lugano-Agno and on the 26th of may in the Hall of Fame, Zürich-Wetzikon. Please use the pre-sale, check the tour dates !